A
user-friendly

tool to capture and manage your company's knowledge.
Is your company knowledge at risk?
In a climate of mergers and acquisitions and the inevitable restructuring this brings, it's vitally important to safeguard your company's knowledge. Even if events such as these don't affect you, your company probably has long-serving employees about to retire. When they go, so does their decades of knowledge and experience which your company has been relying on. Does this sound familiar?
We can help you protect it.
Most companies realise they need to manage their knowledge, but it's difficult to know where to start. We have developed the K-Map (Knowledge Map) process to provide a structured approach to knowledge management. Our process enables manufacturing companies to easily capture valuable knowledge and make it accessible to the people who need it.
The K-Map knowledge management solution: the process.
The K-Map process involves two of our engineers spending time with the people involved in your manufacturing operations. We'll use our facilitation skills in a series of workshop sessions to transfer information to our specially designed software. The software is then mounted on your intranet to be accessed 24/7 by the people you choose. A typical K-Map process consists of an intensive week-long workshop session, followed by several follow-up sessions over a three month period.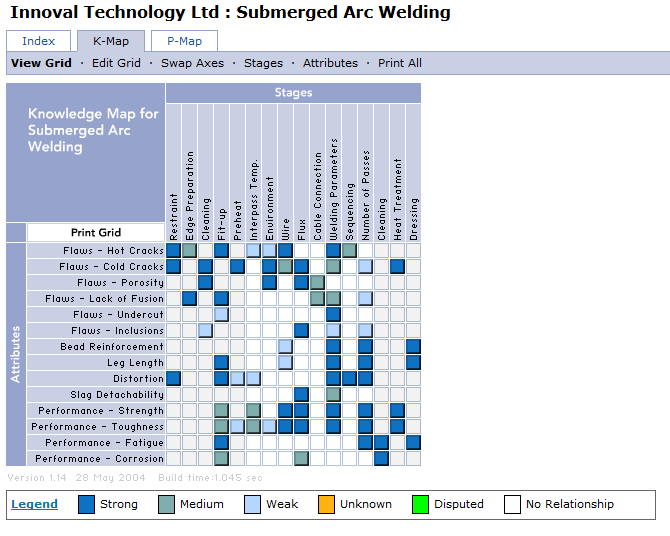 The K-Map knowledge management solution: the software.
The K-Map software consists of a matrix with the axes defined as the process stages and the product attributes. The matrix is populated by systematically going through each process stage and asking your company experts 'which product attributes are affected by this process stage?'
Where there is an effect, the intersection between the process stage and the product attribute is highlighted on the matrix with a coloured button. The colour of the button denotes the strength of the interaction. This is called the Level 1 K-Map.
Summary level.
Behind each coloured button on the matrix is a Summary Level, which contains information about how and why the process stage affects the product attribute. We called this 'Level 2'.
Detail level.
If required, we can add a third level behind the Summary Level. This is called the Detail Level, and it is used to capture data to support the information in the Summary Level.
The completed software and database is mounted on a server or on your company's intranet, with appropriate password protection, so that it can be readily accessed and kept up to date.
This is a simplified description of a K-Map. In fact, that's a lot more to say about it. We'd love to explain the detail of the K-Map process to you in person, and as well as demonstrate the software and share case studies with you too.
Got a question about knowledge management?